The Netgear Nighthawk C7100V XFINITY gateway features a built-in AC1900 WiFi router. The C7100V is only compatible with XFINITY. However, it is capable of speed tiers up to 600 Mbps.
It has 2 phone ports that support two separate phone lines. The C7100V also has a USB port that makes sharing a printer across the network easy. With the optional battery backup, phones can still be used for up to 8 hours during a power outage. The 24 download channels provide for faster data downloads. Here we review the C7100V and take a look at its features.
---
NETGEAR C7100V Overviews
NETGEAR Nighthawk C7100V is a high-end AC1900 router that combines the latest 802.11ac wireless technology with a powerful processor for home or small office use. It features 4-stream (2×2) WiFi radios and a 1GHz dual-core processor, delivering up to 1900Mbps Wi-Fi speeds on routers.
NETGEAR genie App enables users to set up their router in less than 10 minutes using mobile devices anytime, anywhere – even when they are away from home. The application also allows users to monitor and control their network anytime, anywhere.
In addition, parental controls allow you to manage how your family accesses the Internet while scheduling the time of day when specific devices can be used.
NETGEAR Nighthawk C7100V is a good choice for streaming HD videos, wireless gaming, USB storage access, and the normal daily activities of your home or small office networking needs!
---
NETGEAR Nighthawk C7100V Specifications
Optional Battery Backup – Sold separately – 5 to 8 hours of phone service during a power outage.
24 x 8 Channel Bonding
2 Telephone Jacks
AC1900 WiFi Router Built-In
2 USB Ports
Beamforming Technology – Reliable WiFi speeds and coverage
---
NETGEAR C7100V Reviews
Design
The NETGEAR Nighthawk C7100V Inside Router is a shiny black, low-profile cube. It's about the size of three gaming dice put together. There are vents on all six sides. Two Gigabit Ethernet ports are in the back-left corner, along with a USB 3.0 port and power jack.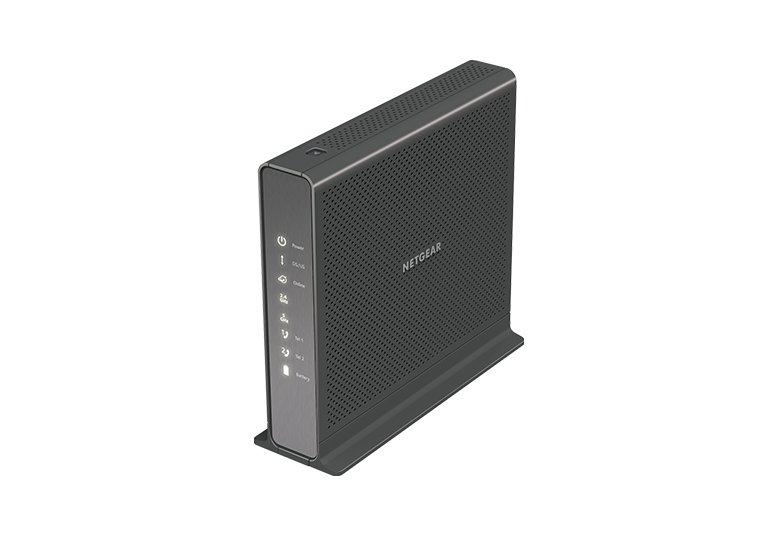 Speed
The NETGEAR Nighthawk C7100V wirelessly connected to the Asus RT-AC87U router (our current pick for best overall) at full 450Mpbs link speed in close proximity. It delivered 172.2 Mbps in 2.4 GHz mode in our short-range test, and 1 Gbps speed in 5 GHz mode in the same environment.
Features
Aside from having both 2.4GHz and 5GHz bands, this router also supports MultiBeam technology which allows you to separate your devices into different SSIDs thus giving them optimum data speeds due to their individual requirements. This Smart Wi-Fi Router is compatible with Amazon Echo/Alexa Voice Service – enabling voice control of your network through an Echo device.
The NETGEAR Nighthawk C7100V also comes with two Gigabit Ethernet ports, a USB 3.0 port, a WPS button for easy wireless connection of devices, and LED indicators on the front side to give you an idea about its operations at all times.
Performance
The NETGEAR Nighthawk C7100V Inside Router is designed to provide users with fast Internet speeds in every room of their home for high-bandwidth tasks like streaming movies or playing games online. This router has "Gigabit" Ethernet ports in both the back and front for wired connections, as well as two dedicated speed boosts for 802.11ac Wi-Fi devices. The NETGEAR Nighthawk C7100V Inside Router also has a USB 3.0 port for your external storage devices or printers.
Price
The retail price of our Smart Wi-Fi Router is around $150 but luckily here at Amazon, it's available for around 50 dollars less after some really great discounts which make it a cheap as well as a reliable option for your home network needs. Think of this router as an investment rather than just another gadget so go ahead and get one now!
Warranty & Support
This NETGEAR Nighthawk C7100V router comes with a manufacturer's warranty of 1 year.
---
Netgear C7100V Manuals & Guides
---
Conclusion
The NETGEAR Nighthawk C7100V is a great and easy-to-use dual-band wireless router that gives you an extra option to switch between long-range and short-range networks through its MultiBeam technology. It enhances your internet connectivity by giving you separate data speeds for different devices at all times.
This article has been completed on the basis of best product reviews and ratings, if you found this article helpful then please drop your comments in our comment section. Also, don't forget to share it with your fellow mates! Have A Nice Day Friends!